K I T C H E N   S P L A S H B A C K   T R E N D S   2 0 1 9
The kitchen splashback can make or break the room that is the heart of your home. People often underestimate the value of the humble kitchen splashback as it sits right in the viewers eyeline. It can be used to make a real statement or blend with the surrounding cabinetry for a minimalistic look. The kitchen splashback is the piece of artwork in your kitchen. We take a look at the hottest trends in kitchen splashbacks this year!
Be at one with nature
The window splashback is a perfect way to maximise natural light or to capture a stunning seaside view, rolling hills outlook or an impressive garden. It is also functional. A window splashback can allow your kitchen flow through to an outdoor space, act as an alternate ventilation option and  be handy when needing to grab some herbs for garnishes. If your window sits behind a cooktop, it will require a special glazing.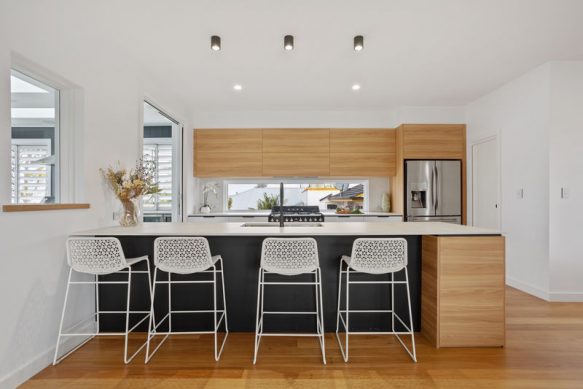 The rise of the stone splashback
Nothing speaks luxury like a single stone slab used as a splashback. Whether natural or man-made stone, stone splashbacks are definitely on trend right now! The beauty of stone can often be unappreciated as a benchtop whereas stone as a splashback can be a striking focal point of the kitchen space. There are so many stunning stones to choose from to help create the look you are after.
An impressive piece of stone can really make a statement! For natural stones we recommend you choose the slab you wish to use that achieves the perfect amount of movement, dramatic effect and colour palate you want. With man-made stones, you can match the colour of your benchtop and bring it through to your splashback. If you are looking at a veined stone, you can achieve a book-matched vein that carries through from your benchtop through to your splashback. If you are price conscious and want to have a dramatic stone splashback, this can be achieved by choosing a neutral/plain benchtop stone and keeping your feature stone for the splashback.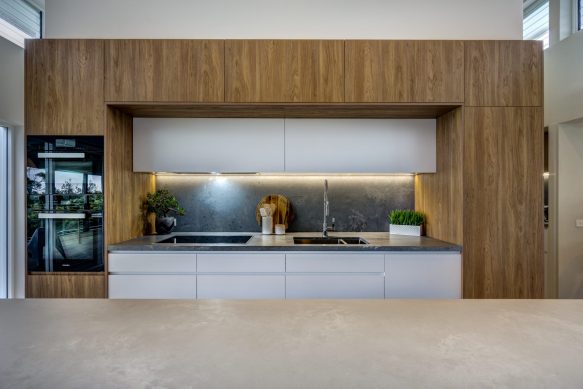 Bold and Patterned Splashbacks
Bold and patterned splashbacks are on trend right now. Tiles are one of the most cost-effective splashbacks of all the types available, depending on the choice of tile selected. It allows the owner to integrate personality into the space and can secure the style of the kitchen space.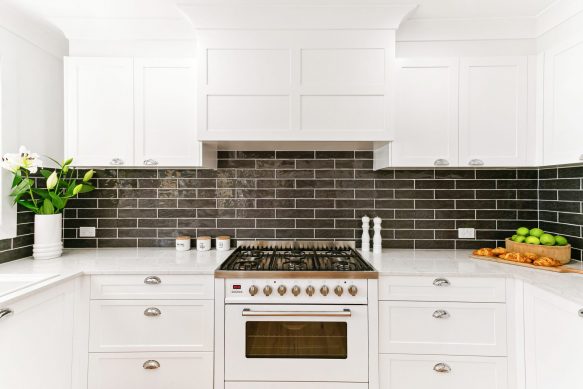 The New-Look Glass Splashback
The toughened glass splashback is a functional and relatively cost-effective option for a splashback. Mirrored, particularly the grey mirrored splashback, has been on trend for a number of years now. It can reflect a view and make a smaller room appear larger than it is.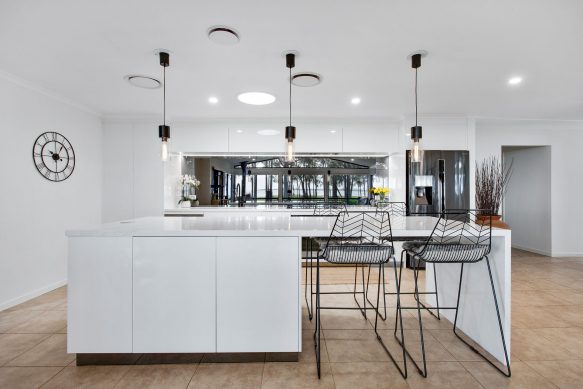 The beauty of the glass splashback is that the colour is actually painted on so you can choose whatever colour you like from whichever colour paint range you like – Resene, Dulux, Taubmans etc. and it will be painted on the back of your glass splashback. To make a sophisticated, artistic or unique feature splashback, you can have an image or photo as your splashback.